Fans of Charles M. Schulz's iconic Peanuts comic strip will adore a trip out to the Snoopy Museum––the exhibits are fun and insightful, with adorable merchandise in the museum shop. If you're not a serious fan, though, the trip all the way out to Machida might prove a little far.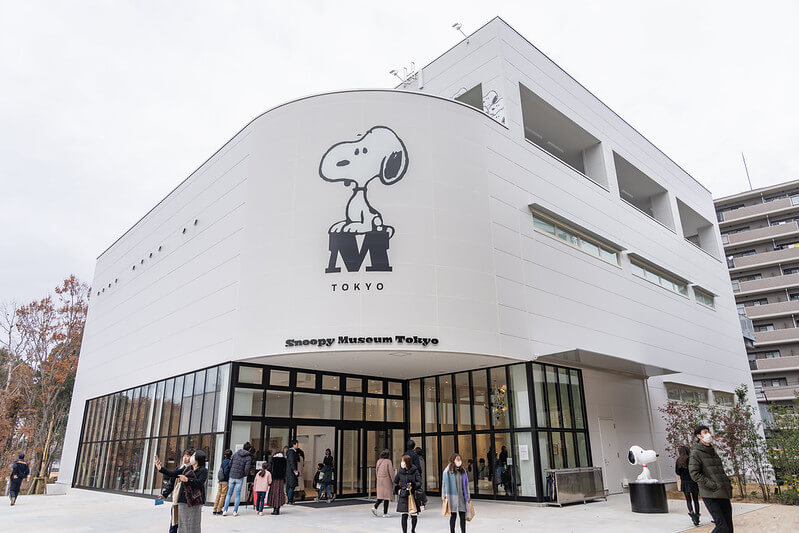 Snoopy Museum, Tokyo © Wei-Te Wong
People above a certain age will be familiar with Peanuts. Created by Charles M. Schulz, this long-running comic strip revolved around the adventures of Charlie Brown and the Peanuts gang. Of all the characters, his pet dog Snoopy proved one of the most loved and iconic ones––so much so that there's an entire museum dedicated to him.
Located in the verdant environs of Minami Machida Grandberry Park, Snoopy Museum Tokyo is a revamped version of its previous incarnation in Roppongi. There's more space to play with here. Not only are the permanent exhibitions brand-new, there's also a theatre screening a short film of Charles M. Schulz's life and career. You'll see a collection of new and reproduced comic strips and vintage goods. The most bizarre space must be the Snoopy room featuring an 8-meter long Sleeping Snoopy, calling to mind a sleeping Buddha statue.
Besides the exhibits, visitors can also take part in workshops at the museum. These are typically Peanuts-themed craft activities, like making Snoopy-shaped candles, plush toys, and confectionery. Young kids might not have grown up with the Peanuts comic, but they'll probably enjoy the hands-on activities anyway.
The museum gift shop, known as the Brown Store, has all kinds of fun original merchandise from backpacks to figurines, and visitors will occasionally see goods sold in collaboration with other popular brands. Finish up with a snack or drink at the Peanuts cafe. The hot chocolate topped with marshmallows is pretty irresistible.
Like a few other museums in Tokyo, admission to the Snoopy Museum Tokyo is split into five time slots per day for crowd control purposes, i.e. there's a limit to the number of visitors per time slot. The first time slot of the day is at 10:00am, and the next is every two hours thereafter. They recommend purchasing tickets at their website beforehand so that you don't end up waiting on the day.
English name:
Snoopy Museum Tokyo
Japanese name:
SNOOPY MUSEUM TOKYO
English address:
3-1-1 Tsuruma, Machida, Tokyo 194-0004
Japanese address:
東京都町田市鶴間3-1-1
Opening hours:
Mon–Thurs: 10:00am–6:00pm (Last entry: 5:30pm)
Fri–Sun and public holidays: 10:00am–8:00pm (Last entry: 7:30pm)
Closed 18 August
Admission:
JPY2,000 (Concessions available)
Nearest Transport:
4-minute walk from Minami-Machida Granberry Park Station on the Denentoshi Line
Telephone:
+81-42-812-2723
Website:
Official Website
:: Read reviews of Snoopy Museum on TripAdvisor.com
Near To Here:
Snoopy Museum Tokyo is located in Tokyo's Roppongi and Akasaka district. See our complete list of things to do in Roppongi and Akasaka, including places to eat, nightlife and places to stay.
Tokyo District Map
Click a Tokyo District for detailed info on attractions, places to eat and accommodation